Minn Kota Fortrex Bow Mount Trolling Motors Various Sizes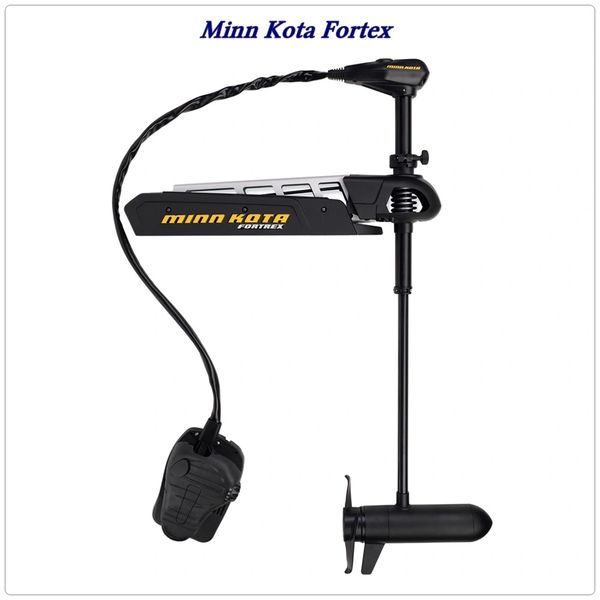 Minn Kota Fortrex Bow Mount Trolling Motors Various Sizes
*Club Members, FOM Members, FLW Members, BASS Members - Call or Email us at Rex@RJsOutdoors.com for a coupon code to receive a discount when you order!!


Go ahead, make its day. Fortrex is fearless, with a ruthlessly tough anodized aluminum mount, Mono-Arm Design and with 112 pounds of thrust. It tears through anything in its path — from thick weeds to stump fields — to deliver you to the fish.

We do NOT ship these..they are pick up or local delivery only!!

Features:

- Lift-Assist Mount: Patented Lift-Assist Design cuts the weight of stow and deploy in half. Features a stainless steel, nitrogen gas-charged spring
- Removable Bowguard 360° Bracket: Breaks away on impact from any angle and automatically resets itself, giving you uninterrupted fishing. Plus, its dual bearing system eliminates noise and the entire mount is easily removable
- Mono-Arm Design: Made of extruded, anodized aluminum with solid one-piece construction that helps your trolling motor run quieter, with less wear for longer life
- Counter-Tension Stabilizer: An integrated spring in this mount applies force whether the trolling motor is stowed or deployed. That translates to a trolling motor with no play, no give, reduced steering torque and years of silent operation
- Illuminated Directional Indicator: Easy-to-read illuminated directional indicator built right into the motor head tells you right where you're headed - in any conditions
- Heel-Toe / Cable-Steer Foot Pedal: Get heel/toe control of your motor with this ultra-responsive foot pedal that includes speed control, and momentary and constant on/off. Made with a high-impact composite material for unparalleled durability
- Push-to-Test Battery Meter: Press a a button on the trolling motor head to get an instant status of battery life you have left
- Digital Maximizer: Provides up to 5 times longer run time on a single battery charge. These variable speed trolling motors let you dial in your exact speed, and they deliver only as much power as you need, helping to conserve your battery for a full day of fishing
- Weedless Wedge 2 Prop: With swept-back flared blades to power through anything without battery-draining chopping and hacking, the Weedless Wedge 2 is one of the most trusted props in fishing
- Indestructible Composite Shaft: At the core of your Minn Kota trolling motor is an indestructable composite shaft. It's a Minn Kota exclusive
- Cool, Quiet Power: Every Minn Kota lower unit runs cool to extend trolling motor life, and stays quiet

Specifications:

- For Use In: Freshwater
- Mounting Location: Bow-Mount
- Motor Style: Cable-steer
- Max Thrust: 112 lbs.
- Voltage: 36
- Shaft Length: 45"
- Foot Pedal Style: Heel-Toe / Cable
- Auto/Stow Deploy: No
- Power Trim: No
- Power Steering: No
- Lift-Assist: Yes
- Bowguard: Yes
- Wireless Remote: No
- i-Pilot Link GPS: No
- i-Pilot GPS: No
- AutoPilot: No
- CoPilot: No
- Universal Sonar 2: No
- Speeds: Variable
- Digital Maximizer: Yes
- Battery Meter: Yes